SURYA YANTRA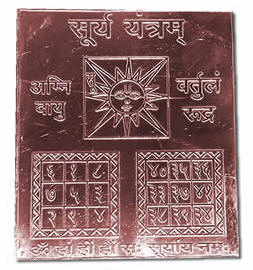 Price: 51$


According to Shrimadbhagvat sun is situated in the center of the universe between heaven and the earth. By sun only, one can differentiate the directions, the sky, the space, the heaven, the helll and the earth. Sun is the lord of sign leo and the direction east. It is also known as the soul of "KAAL PURUSHA". One should always wear Surya Yantra.

• Surya Yantra Helps the person to overcome from poverty and brings in the wealth and harmony to the wearer. Its use also enhances native's religious power.
• Surya Yantra also protects one from the fear of ghosts and evil powers.
• If the positon of Surya in your horoscope is unfavourable and the time is not in your favour you are recommended to use Surya Yantra to overcome the troubles you are facing.
• Surya Yantra helps in one in his business and profession.
• Surya Yantra is also used to cure the diseases occured due to melefic position of Surya in the horoscope of a native.

Yantra Guidelines:- A Yantra is an instrument, or a talisman or a mystical diagram usually in copper. It is a technique or path, considered the simplest and shortest, through which one can attain one's desires, and fulfill one's wishes. It is said that the 'Deities' reside in the Yantras and by performing 'Puja' or worship of Yantras, one can appease them, remove the malefic effects of planets, and increase the flow of positive influences.

Guidelines to be followed by you to place this energized Yantra are as follows:
First purify your body and start with a clear and positive mind frame
Find a place on the floor facing west, where you will be undisturbed.

Light the lamp/diya containing mustard oil.

Lay a fresh flower and a fresh fruit on the altar.

Open the Yantra and place it along with the image of the deity of yantra and your isht God.

Take the water with any leaf from any tree and sprinkle the water on yourself followed by sprinkling the water on the Yantra.

Then purify your soul and surrender yourself completely in devotion to God and chant 21 times the following :
"Om Ghrieea Surya Aditya Om"

Close your eyes and concentrate on the deity to bless you with wishes. Now with all sincerity, ask God to grant you the desire of your life that you wanted to be fulfilled in your own language.
We provide Yantras that are Energized by learned Pandits, by reciting the Vedic mantra. We provide with the Yantra the complete mantras and methodology for worshipping the Yantra.

Regard
Acharya Shree Vijay Kumar
Contact : 0922 4399 275